Clamshell Alchemist sculptural lamp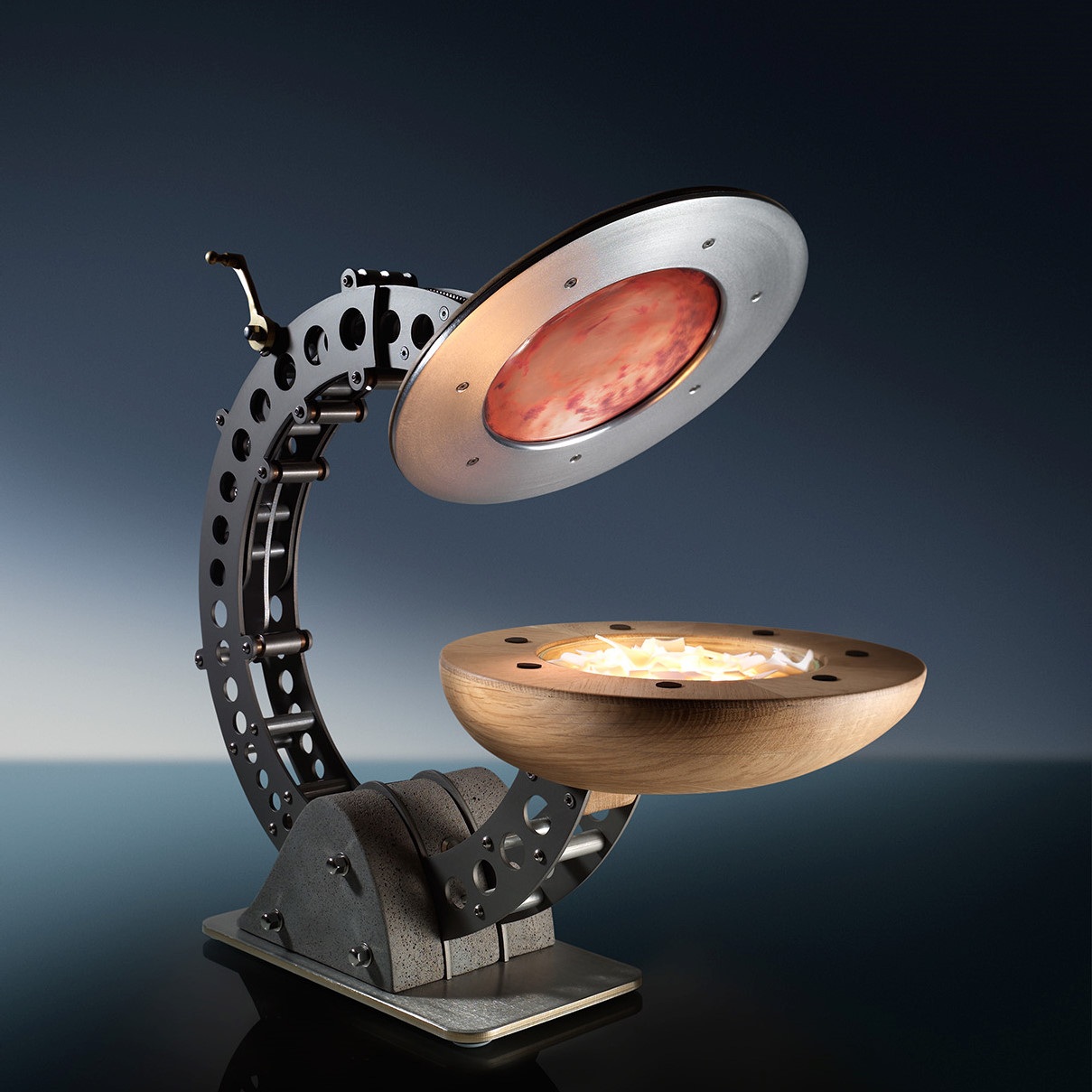 Clamshell Alchemist sculptural lamp
Hand-carved oak clamshell that opens to reveal a light source shining up from the lower shell. The shell holds a glass dish filled with translucent ceramics that glow with the light.
You open the clamshell by turning a brass handle connected to a rack and pinion gear mechanism. The upper clamshell moves through 80 degrees, from closed to wide open.
Hand-engineered limited edition of 100

Oak, anodised aluminium, stainless steel, brass, glass, concrete and bone china fragments

Size of a medium cat (50 cm tall x 27 cm wide, 55 cm deep)

Weights 10kg

240V 50Hz mains powered, GX53 LED bulb

Supplied with optional bone china fragments

Locations: table-top design for residential and hospitality

Designed and handmade by Dan Morrison
Inspiration: Clamshells, oysters and pearls, incubators, nests, alchemy, space colonies, nurturing, protecting, hidden secrets and the slow reveal
Please contact us if you would like to discuss details or alternative ways of ordering. See our information on:
Background
For a while now we have been playing around with the idea of encasing a light in some sort of solid container. We wanted something that emitted glimmers of light when opened throwing shafts of light into the surroundings.
We wanted this slow revealing to give a sense of something more inside, like another world, or something precious or alive, and create a sense of anticipation and a desire to know more. So we took this notion and combined it with the industrial telescoping circular beam structure from the Crane lamp, and added an upward pointing light source in the lower shell which shines through a translucent material, giving a sense of energy and life to this inner space. We added a hand-beaten copper reflector for the top shell to reflect the light back and forth, mixing it up and giving additional tones. And to project light into the room as the clamshell opens up wider.
We are very pleased with the way this has all come together and we feel we have created a table lamp with an unusual beauty and intriguing allure.